Boost Controller
Both ECU's are capable of measering and controlling most boost control valves, no changes or extra components are needed beside the valve it self.
A boost controller is actually a software part, to control the boost level produced in the intake manifold of a turbocharged or supercharged engine by affecting the air pressure delivered to the pneumatic and mechanical wastegate actuator.
Using the common N75 valve as guide line;
when there is no electrical signal, the long connection is closed.
The two short connections are connected to each other.
When actuated, the link between the long connection and the two short connections is opened.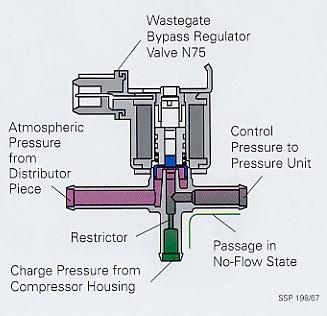 Common Tunerstudio Settings:
Output IAC2 (GND)
Frequency : 19.5 Hz
Output polarity : Inverted
Control interval : 20 ms
Closed duty : 0%
Open duty : 100%
Boost control lower limit : 100%
This means 100% DC (duty cycle) lowest boost possible in function of waste gate spring.
---
There are no products to list in this category.